Lancaster. You've probably heard of the city, but have you heard of the band?
Lancaster is an upcoming five piece rock band from Barcelona but their sound has been described as feeling very "at home in the current British rock scene." Fortunate enough to have played gigs worldwide and even have upcoming shows supporting All Time Low and Lower Than Atlantis, Lancaster were kind enough to offer me an interview with vocalist Anth Alonso.
Hey guys; thanks for agreeing to this interview, have you any opening words?
So we are Lancaster, from Barcelona, Spain and we play rock music for fans of Young Guns, Mallory Knox, You Me At Six, All Time Low.
That's pretty cool. Talk me through the band name, Lancaster?
Yes, we wanted to put something easy to remember, like a city name, then we found the city of Lancaster on the map and it sounded cool. Not a big history behind the band name, haha.
The simple names are often the best, anyway. 😉 With over 10.5k followers on twitter over two and a half thousand likes on Facebook, you've gathered a large following and it's always increasing. What has it been like getting the kind of support you've received so far?
We work very hard on our social media. Social media brings you the chance to get to know people who are miles away with just one tweet or post, so we are always trying to get new people to our fan base. Anyways, sometimes the fact you have loads of followers doesn't mean that you are a big band, just means you're working on getting something.
Listen to more: Facebook | Twitter | Instagram | Tumblr | YouTube
But you have to admit that you're making your way firmly into the scene, with the likes of supporting All Time Low on the 17th of June? How do these opportunities come about?
Let me say it's never enough! We're very happy with our followers and our fan base but we don't want to stop here, we want to keep on increasing, and of course, improving. Those opportunities come from hard work, I think we have been doing the things well so yes, all the work 'behind the scenes' worth it. We are in the right path but like I said, we can't stop here.
I think that's certainly the best attitude to have. What's the best part of being in a band?
The fact you can help people with your music or your lyrics is amazing. And being in a band you have the chance to get to know a lot of people so it's like the whole thing. There's a lot of sh*t in music as well, but we wouldn't finish the interview if we start talking sh*t of music, haha.
I can imagine – I was going to ask what the worst thing was, but now I'm having second thoughts. Instead, let's go with, of your own covers and tracks, which is your favourite song?
I'd say 'Bridges' and 'Love Is A War We Have Lost'. These ones are very personal for me so yes, I opened up my heart and my thoughts and showed 'em to the world.
So, you play a lot of live gigs, have you got a favourite memory from a show?
Yes, Barcelona in 2014, on our pre-release show, it was like a sold out. I remember getting on the stage and look at the crowd and it was like: 'No! This is not happening!' Haha so until the middle of the song I think I couldn't sing properly haha then it was absolutely mind-blowing! Our shows in the UK, like Worksop and London were very fun as well, all the places have their own things and peculiarities.
"This is a captivating, often exhilarating puzzle of an album with big powerful guitars, great atmospheric instrumentation and lead singers Anth brilliant vocals."
What's your favourite album by another artist?
The Artist In The Ambulance by Thrice.
What's the first song you ever remember hearing?
Wow, probably something of Bon Jovi, Helloween or Gary Moore…haha when I was just a kid.
What is one outrageous fact that hardly anyone knows about you?
Should I tell you? Haha. I'm an opened book but…I'd say that I am a maniac with cleanliness, too much.
You might just have shattered the stereotype of life in a band, with that one haha. Talking of bands, other than the rest of the Lancaster band, if you could choose any musicians – living or dead – who would be in your dream band?
Can I have a band with Freddie Mercury (Queen) and Matthew Bellamy (Muse), please!?
That certainly seems like a decent band – before we move onto the quickfire round, are there are any particular projects or causes you would like to raise attention about?
We have started the writing of new things but we can't say much about it. 😛
"Drawing obvious influence from British breakthrough bands such as Young Guns and Mallory Knox, Lancaster are certainly a band that want to be taken seriously here in the UK. Journeys demands just that. Kicking off with a handful of high-energy, guitar heavy tracks, this album already has the traits of a solid debut album on par with those from other British breakthroughs such as Lower Than Atlantis or Mallory Knox." THE MIXED TAPE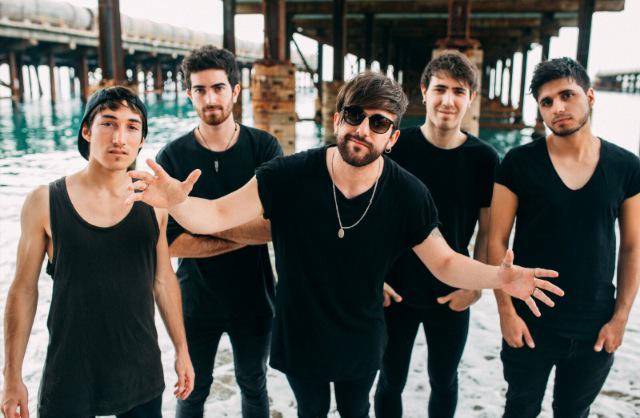 Right, a quickfire round now. We'll start with one of the most common here on Delirious Antidotes – what colour socks are you wearing?
It's Barcelona man and it's almost summer! No socks! Haha
Books or movies?
Books
What do you prefer: recording music or playing live?
Hard one… Recording has its magic but I'd say playing live.
Ice cream or sorbet?
Ice cream
What's your favourite mode of public transport?
When I was living in London I was very fan of buses haha. In Barcelona I'd say the Tube.
Weapon of choice?
Poetry
Gold or silver?
Silver
Thank you for the interview, Anth, and best of luck with all of your future ventures! Do you have any parting words?
Thanks SJ! It has been fun! Good luck you too!
Remember that you can check out Lancaster's Facebook, YouTube, twitter, Instagram, and the other interviews at Delirious Antidotes; you can also contact deliriousantidotes@gmail.com if you are interested in being interviewed for this blog. Thank you again to Anth Alonso; it was an honour to interview you!